Category Archives:
Opinion Piece
Forty years ago today, 3 August 1981, the Professional Air Traffic Controllers Organization — PATCO — went out on strike against the Federal Aviation Administration, and by extension the U.S. government. I was at the time an staff sergeant and an air traffic controller in the U.S. Air Force working at a control tower and precision approach radar (PAR) at an Air Force Base in the western United States.
It was quite a ride that year, and the year following. Weeks before the strike, just before PATCO's first strike vote, I had my duffle bag packed and held orders to report the FAA Airport Traffic Control Tower at McCarran International Airport in Las Vegas, Nevada. Alas, PATCO voted to not strike during that first vote, and my orders were rescinded.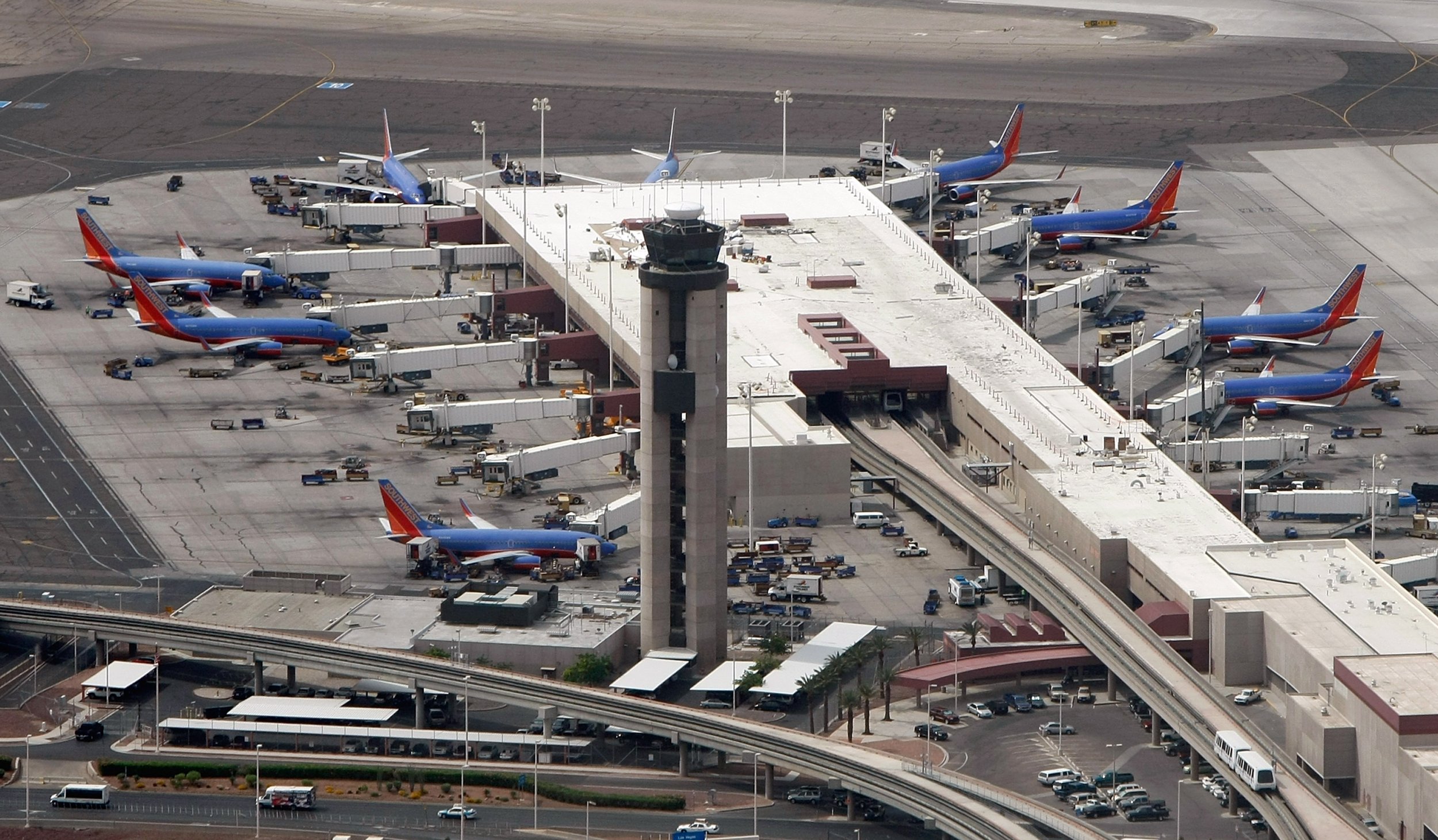 A second vote was taken on 31 July, and a strike date was set for three days later. Orders this time did not go to me, but rather to others at my facility. They were to report to the Denver Stapleton International Control Tower.
But less than two weeks later, that contingent failed to pass the FAA's stringent training program. I and another controller, Airman Vern "VJ" Johnson, were called into the chief controller's office. We were handed orders to report on 17 August to the FAA control tower at El Paso International Airport, and we were instructed in no uncertain terms to make damned sure we didn't blow the training program, as our chief controller was now under a Pentagon microscope.
Upon arrival, we joined up with four additional pairs of Air Force controllers from Luke, Shepard, Tinker, and Holloman Air Force Bases. Names from that contingent include Joe Lang, Joe Yatar, Dean Funk, Dane Grant, Wilford Rayford, Charlie Correll (sp?), Steve Glass, and at least one name that right now escapes me. My memory must be fading. Over the next several months, El Paso ATCT pretty much acted as an Air Force tower and an FAA TRACON.
As for VJ and me that "90-day" deployment that stretched to almost eleven full months. I returned to my base to out-process from the Air Force. Having proven myself capable to the FAA and El Paso, I was ordered to return as an FAA controller in early September 1982. And so began a 27-year career in the FAA on top of the seven+ years I had served as an air traffic controller in the United States Air Force. Joining me in the move from USAF to FAA were VJ, Dean, and Dane.
I would go on to certify as a radar controller in the El Paso Terminal Radar Approach Control (TRACON), and alternate duties between the "upstairs" control tower and "downstairs" radar room for the duration of my service to the U.S. government.
During that time I would also be tasked to assist in developing, evaluating, and deploying a modern upgrade to the nation's air traffic control system — the Standard Terminal Automation Replacement System (STARS). This involved repeated trips to the FAA Technical Center near Atlantic City, New Jersey, as well as deployment and evaluation trips to FAA TRACONS in Syracuse, New York; Memphis, Tennessee; Miami, Florida; and Philadelphia, Pennsylvania.
I hope you found informative today's little aviation history lesson given to you from a personal perspective. And please excuse the personal history, but I at times get a bit prideful of my service.
Today the PATCO strike is pretty much relegated to the history books and all but ignored, but at the time it held incredible significance to this nation's aviation system. The impact of the PATCO strike cannot be overstated, as that impact on U.S. aviation would only later be superseded in significance by the 11 September attacks and, perhaps, the recent Covid-19 pandemic.
Another special bonus blog article this week. It appears I was a bit early in my previous praise of TripAdvisor doing the right thing and reposting my revised review of Denali Fireside Cabins & Suites in Talkeetna, Alaska, and the positively abominable owner Don Devore.
To recap, Ursula and I had a run-in with this immature, insecure, post-election snowflake on May 12 of this year. We asked Mr. Devore if he had available a cabin to rent to us. Instead of getting an answer, we were instead subjected to a third-degree on our political leanings and, when we failed this intrusive and unwelcome oral exam, we were told to take our business elsewhere.
I posted on Yelp, Google Reviews, and TripAdvisor a rather scathing review. That review is still up on Google and Yelp, although Yelp has it listed as "not currently recommended." I suspect that's because I don't yet have many reviews on that site. To read my revised review, go to this Google Reviews link and have some fun.
TripAdvisor initially posted the review, but soon removed it because, "… your review does not include any first-hand experiences about the facilities or services of the establishment." After some back-and-forth, during which I proved that my review was indeed a first-hand account of the service (or lack thereof) that we received, I was told to resubmit a review and to let the moderators know when I had done so. I revised and toned down my review, resubmitted it, and notified the moderators that my first-hand account was available for them to review.
After a very short time, one hour thirty-six minutes to be precise, my revised review passed moderation, and I was advised via email that the review was online. It was . . . but not for very long. Shortly after I posted a quick blog article thanking TripAdvisor for doing the right thing, I received another message from yet another TripAdvisor moderator that the review was taken down because, you guessed it, "… your review does not include any first-hand experiences about the facilities or services of the establishment." Now, it's true that my review isn't a first-hand account of facilities, for obvious reasons, but it most assuredly is a first-hand account of the service inflicted upon Ursula and me by this whiny loser who still hasn't gotten over last November's election.
If TripAdvisor thought I was going to let this slide, then they don't know me very well. Hence today's article exposing this scam they have going. As I noted in my response to this latest TripAdvisor outrage:
Okay. Got it.
In a nutshell, it is TripAdvisor's stated policy that an innkeeper can interrogate a customer on political leanings, deny lodging based upon that interrogation, and then TripAdvisor will remove any review that warns others of this innkeeper's criteria for accommodations so that future customers don't waste their time.
And I now understand that it is also TripAdvisor's stated policy that removal of a review can be based upon the fact that the customer was denied accommodations for failing to pass the innkeeper's political leanings test, since the customer didn't actually stay at the inn and thus has no "first-hand experience" with the facilities.
I assume it's also safe to say based upon this clarification that TripAdvisor would sanction the removal of reviews from customers who are denied accommodations based upon other rejection criteria as well, such as acne, crossed eyes, weight, hair color, make and model of car, poor taste in ties, disfigurement due to a fire, race, religion, and other nonrelevant criteria.
Now that I fully understand the policy, I'll be advising others via my blog just precisely what TripAdvisor's policy is on reviews and the arbitrary nature of what constitutes "first-hand experiences" for a TripAdvisor review.
Thank you for the clarification on TripAdvisor's review policy. I'm really looking forward to writing up this blog article.
Best Wishes,
R. Doug Wicker
(Blog: RDougWicker.com)
Consider yourselves forewarned. TripAdvisor moderators are deliberately padding TripAdvisor's online customer ratings by hiding poor reviews written by people who are denied accommodations, at least at this establishment (I've no reason this isn't happening with other establishments as well). I say "people" because I seriously doubt we were the first, and I highly suspect we won't be the last to suffer this silliness at the hands of Don Devore. How many people will make reservations at Denali Fireside Cabins & Suites this upcoming presumably busy tourist season, only to find out they will not be accommodated because upon arrival they fail Mr. Devore's political leanings oral exam? Why is TripAdvisor complicit in aiding and abetting this behavior?
Will TripAdvisor make whole those whose travel plans are ruined by this childishness? I think we all know the answer to that one. They won't. They will however leave you hanging out to dry because they are removing from their site any reviews warning unsuspecting travelers to Talkeetna. So when that unwary family is met with no place to stay, and subsequently tries to warn others, expect TripAdvisor to kill their review because they didn't stay at that establishment. What kind of circular logic is that?
Google Reviews, on the other hand, is not playing this you-didn't-stay-there-so-you-can't-review-them game. Google Reviews accepts honest reviews on the service you can expect to receive at places such as this. Keep that in mind when you next research destinations, tours, lodging, dining, and other establishments and services.
TripAdvisor is not your friend. But TripAdvisor certainly doesn't mind protecting splenetic business owners with an adolescent axe to grind.